Final Fantasy VII Characters
Spoilers are currently hidden. Show spoilers?
Cloud Strife
Vital Statistics
| | |
| --- | --- |
| Age | 21 |
| Height | 173cm |
| Occupation | Mercenary |
| Weapon | Sword |
| Birthdate | 19 August |
| Hometown | Nibelheim |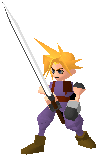 Biography
Cloud is apparently a former SOLDIER, first class, who left the Shinra elite fighting force following an incident in his hometown five years ago, involving Sephiroth, which left his childhood friend Tifa at death's door. His initially casual attitude makes him no friends at eco-terrorist group AVALANCHE, who hire him at the beginning of the game to help in a raid on one of Midgar's Mako reactors.
There is, however, a lot more to Cloud than meets the eye. Far from being the emotionless mercenary he perhaps wishes he could be, a complicated past causes him deep inner turmoil throughout the story. Does he even know himself exactly what happened on that day, five years ago? His account of events is certainly flawed, as you may well observe.
Caves of Narshe
:
Final Fantasy VII
Version 6
©1997–2020 Josh Alvies (Rangers51)
All fanfiction and fanart (including original artwork in forum avatars) is property of the original authors. Some graphics property of Square Enix.