Final Fantasy VII Characters
Spoilers are currently hidden. Show spoilers?
Barret Wallace
Vital Statistics
| | |
| --- | --- |
| Age | 35 |
| Height | 197cm |
| Occupation | Leader of AVALANCHE |
| Weapon | Gun-Arm |
| Birthdate | 15 December |
| Hometown | Corel Village |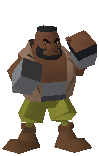 Biography
Barret is the tough and temperamental leader of AVALANCHE, a rebel group devoted to the fall of the Shinra Corporation. His most distinctive feature is the prosthetic "Gun-Arm" which replaces his right hand and acts as his primary weapon.
Barret lost his wife Myrna when Shinra destroyed North Corel, and he maintains a thirst for revenge that borders on the obsessive. His hatred of the corporation is surpassed only by his love for his adopted daughter Marlene, the daughter of an old friend. He often regrets that his work with AVALANCHE keeps him from spending enough time with her.
Aided in his quest by three commoners, Wedge, Biggs, and Jessie, as well as Tifa, the proprietor of the 7th Heaven bar, Barret decides to strike at Shinra's prized mako reactors - the lifeblood of the corporation. Towards that end, he enlists the help of a mysterious SOLDIER-turned-mercenary named Cloud Strife...
Caves of Narshe
:
Final Fantasy VII
Version 6
©1997–2020 Josh Alvies (Rangers51)
All fanfiction and fanart (including original artwork in forum avatars) is property of the original authors. Some graphics property of Square Enix.