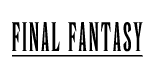 It seems like only the day before the day before yesterday we remarked at
Hajime Tabata making the media rounds
to promote Final Fantasy Type-0 (and, ever-so-slightly, Final Fantasy XV), and already there's more to report.
Square Enix has released a video comparing the graphics of the original Type-0, released in Japan in 2011, with the HD version we all will see in just a couple months.
You can watch the video here
: it's quite an impressive upgrade across the board, from character models to environments and from menus to battle movement.
You'll notice in the video that the audio playing is the famous Final Fantasy theme. This observation leads to the next news of the hour, an interview with Siliconera in which Tabata discussed the difference between a Final Fantasy game and a Final Fantasy Type game.
As we've already reported,
Type-0 is currently set to be the first game in a new series of Final Fantasy Type games, owing to the huge popularity of Type-0 in Japan and the company's increasing confidence in the game's director. In speaking of Type-0, Tabata emphasized the different atmosphere and implications of teenage protagonists, as opposed to Final Fantasy XV's adult cast.
Tabata says it is hard to pin down exactly what makes a Final Fantasy game, but that despite the vagueness of the concept fans and developers who have spent a lot of time with the series are able to sense whether someone has the "Final Fantasy DNA" to lead a project. Tabata has certainly proved himself to the latter group; we will see if he can convince the former as well.
Tabata also stressed the need to do new things in both series while still maintaining a continuity of spirit between titles. He understands the Type series as being to some degree defined by its ability to try out more new things and push boundries than the main series. With FFXV, Tabata says, the balance between old and new hovers around 50-50; he continues to say that "a Type series game is 80-20. Final Fantasy Type-0 is actually 70-30." The confidence of these comments indicates that long-run plans for the Type series not only exist but are being carried out. It has yet to be determined how Tabata himself will be allocated in the future, given his present investment in both series.
Type-0 HD is set for mid-March release dates world-wide.
Source:
Square Enix Youtube
,
Siliconera